Pest Control: Carpet Beetles
Carpet Beetle are often found on the window ledge as they are attracted to natural light. If the larvae is found then you may need our carpet beetle removal services before the problem becomes widespread.
The carpet beetle larvae prefers dark undisturbed areas and feeds on natural fibers found in homes and businesses such as carpets, silk, wool, animal hair, fur and even synthetic fibers that have been soiled by food or perspiration. A common place to find them is in loft spaces and voids.
What You Need to Know About Carpet Beetles
How You Got Them. Variegated Carpet Beetle can be introduced to a building due to their like of fresh cut flowers, or birds nesting in the roof. Sometimes it could simply be the fact you had your window open. 
Larvae. Variegated Carpet Beetle Larvae are also known as woolly bears due to the fine brown hairs on their body. They are about 4mm in length.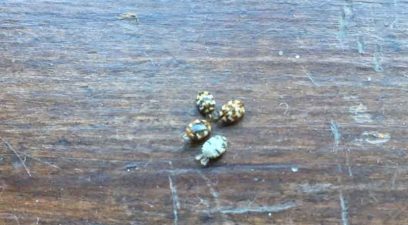 If you see a number of dead carpet beetles on the window ledge then carry out some checks in rooms where you have natural wool carpets. Move furniture and check the carpet under the furniture to identify if you have any larvae, also known as wooly bears, as they like the dark areas of the room. They range from 3mm to 5mm in size with brown and cream colouring and hairs all over as shown in the picture above.
Regular cleaning and hovering can reduce carpet beetle numbers, but a professional grade treatment and targeted treatment areas is the sure way to rid your home or business of this pest if you find you have it. Ensure you empty the hoover bag outside though.
If you suspect you may have an infestation then you should try the tips above but if unsuccessful then you may need our carpet beetle removal services and you can contact us for a free no obligation quote.
Commonly Seen Pests in the Home and Workplace