Pest Control: Silverfish
Pest-Tech carry out Silverfish Treatments that deal with an infestation to remove them from the property
Silverfish are insects of the night and move very rapidly when disturbed such as switching a light on. They are found mostly in moist or damp areas such as kitchens, bathrooms and cellars.
What You Need to Know About Silver Fish
Spotting Them. Silver fish are slim, long, silver scaly, insects, with what can be only described as three tails and a pair of long antennae on its head.
Food sources. Silverfish feed mainly on small waste food particles, glues of bookbinding, wallpaper paste, fragments of dead insects and textiles such as cotton and linen.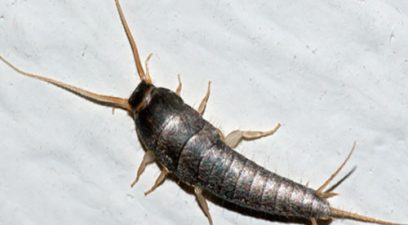 Silverfish are common household pests and we carry out a lot of treatments in poorly ventilated buildings which cause high humidity or damp conditions. The presence of them may also highlight an underlying problem which may be a warning that repairs are needed.  
If you are regularly seeing silver fish you should investigate for any leaks or damp, at the same time a silverfish treatment may be required to knock down numbers, this will be in the form of a residual chemical insect spray.
Firebrat look very similar to silverfish, they are the same size and same shape although the colouring is slightly different. The main difference is a firebrat like warm or hot conditions such airing cupboards.
Pest-Tech Ltd can provide a professional treatment to both commercial and domestic properties that have located a silverfish or firebrat infestation. It is recommended that a silverfish treatment is considered at the early stages of the infestation, as once they are in the fabric of the building it is a lot harder to control.
If you would like to know more about our treatments then please Contact Us.
Commonly Seen Pests in the Home and Workplace