Pest Control: Rats
If you have a rat problem, no matter how big or small you should arrange a method of rat removal treatment to deal with the issue.
Rats in the home and workplace can cause considerable damage to property and contaminate products and food but they can also damage reputation for a business.
We hope not, but if you suspect otherwise please get in touch and let the pest control specialist handle your rat problem.
What You Need to Know About Rats
Rats are carriers of disease. They can carry many different diseases just by the nature of the environment they thrive in but the main one to be aware of is leptospirosis. This is a bacterial disease carried in their urine but not all rats carry this and it thrives in  damp moist areas such as river banks.
Rats teeth never stop growing. They can gnaw through concrete, plastic, wood and metals, this is particularly helpful when trying to gain entry into a buildings. They will also gnaw to wear their teeth down, but also to sharpen them at the same time.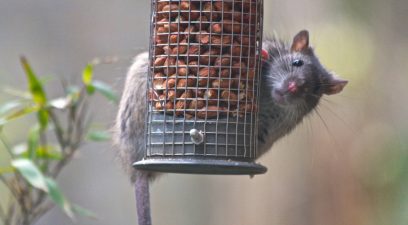 Pest-Tech are experts in the removal, control and eradication of rats.
Rats can cause a large amount of damage in a very short amount of time. They are often the cause for power cuts, timber destruction, bad smells and come with a high health risk as they are carriers for disease. They can be a fire hazard (chewing through electrical wires) in lofts and walls. They also can decimate and contaminate food storage units and contaminate areas with their droppings. If the conditions are good then they reproduce at an alarming rate.
You will usually find your rodent pest problem during certain times of the year, as the weather can affect their numbers and homes. Unlike mice they don't drop everywhere, they use the same areas as a toilet and only drop about 40 times a day. Usually rats choose to live outdoors in burrows, but in the winter the rain and cold will drive them to find more suitable accommodation and food sources such as sheds, homes, business premises where it is dry and warm. If they get into a home they often end up in the loft.
If you suspect you have rats then you need to deal with the problem swiftly before it gets out of hand, Pest-Tech offer a complete service to help you with rat removal. Leaving a rodent problem for too long can become more costly to treat, and an early phone call may save time and money so Contact Us. Pest-Tech offer a complete rat control service and we not only deal with the rats but also try to pinpoint how they are getting in.
Commonly Seen Pests in the Home and Workplace